Wynmore & More...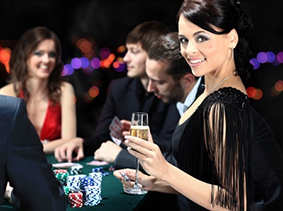 Once our flagship is out to sea, the duty-free Gift Shop opens and the stunning Wynmore Casino springs to life with an array of glittering gaming machines plus poker, blackjack, craps and roulette tables. Come join Lady Luck at the tables for all your favorite games of chance. After dinner, evening entertainment can range from a pianist in the quaint 437 Pub to bingo, or the fan-favorite main-stage entertainment in the vast 600 seat nightclub, The View. Karaoke fans can become a balladeer and croon in the impressive circular, terraced Ocean Breeze Lounge. And after the entertainers are done, the dance enthusiast will get the chance to get their groove on well into the wee hours, as The View carries on as a stylish nightclub with a live DJ and two multi-level lighted dance floors.
The View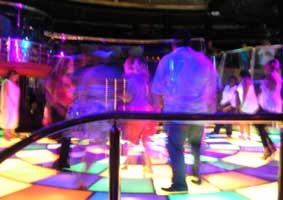 We want you to get the most out of your vacation, because that's what everyone wants, and that's why we've carefully chosen the best vacation hotspots in Florida and the Bahamas to be part of your vacation experience. By combining the magic and excitement of Orlando, the nightlife and shopping of South Florida, and the blue-crystal clear waters and white sand of the Holiday, to provide you with a stress free vacation to create memories you will never forget!
Restaurant Deck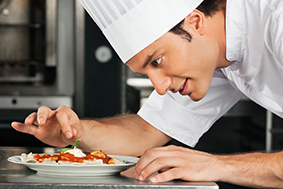 Just down one level, is by far the most popular. Here you're likely to run into some of the new friends you've made aboard ship. It begins with the spectacular Wynmore Casino and The Cove a la carte dining room; then continues aft via a wide portside promenade that provides access to the Crystal Restaurant, Pub 437, Trattoria Di Gerry, Rio Restaurant, the Photo Gallery, a Teen Center, and the lower level of The View.
The Dining Experience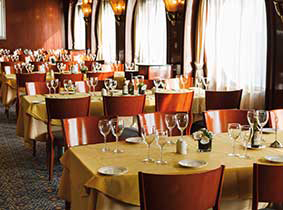 Cruising and Fine Dining on the Bahamas Celebration are synonymous. With four distinctive dining atmospheres to choose from our guests experience a new and delicious array of choices at nearly every meal. Guests enjoy the flexibility of setting their own dining schedule at the time of boarding by choosing where and when they want to dine. Be sure to bring your appetite for the many mouthwatering delicacies available. Our flavorful selection of restaurants, from relaxed to elegant, allows our guests to satisfy their every culinary desire. The casual poolside buffet offers a quick and easy place to grab a tasty bite. Enjoy the simplicity of grabbing a plate of treats and relaxing poolside while enjoying the sounds of live Caribbean music.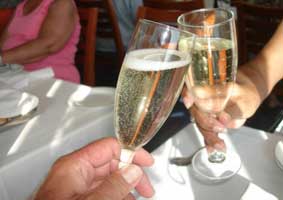 Planning where you will stay and what you're going to do on your vacation should all be part of the fun and excitement! At Holiday Cruise Line, our Reservation Staff is focused on making every step of your vacation as easy and pleasant as possible. We know your everyday life can be stressful and the whole purpose of taking a vacation is to unwind and recharge your batteries. That's why our trained experts are available 7 days a week to assist you; so you can relax knowing we're here to help you customize and confirm your travel arrangements. All you need worry about is the important stuff… like what to pack!